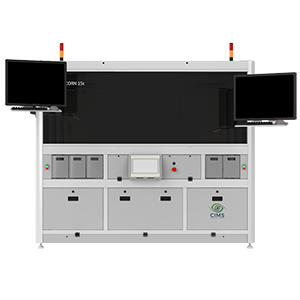 Description
AVI for IC Substrates with min line/space down to 15 µm.
Capricorn 15x, CIMS latest generation multiple resolutions AVI system, is designed for final inspection of IC Substrates. It is capable to scan down to 15 µm line/space (3.8 μm optical pixel size) width technology.
Capricorn AVI systems feature dual stage and dual camera and is powered by the most advanced hardware and software offering high-capacity inspection along with greatly enhanced detection capabilities on both metal and solder mask.
Capricorn AVI systems are fully compatible with advanced Industry 4.0 requirements including scanning and handling barcode information, internal and external database connectivity, full compatibility with CIMS virtual verification system specifically designed for AVI inspection (VVS/AVI) as well as supporting external data protocols for factory-wide smart factory integration.
Capricorn 15x is powered by Spark 3.0™ – an innovative cross-platform detection engine.
Highlights
Superior detection on both metal and solder mask
Detection of defects under solder mask
Inspection with multiple resolutions
4 fully automated magazines
High performance image processing firmware
Powerful processors to handle large data
Easy and intuitive setup
Options
Integrated automated strip cleaner
Barcode reading capability
Anti-static ionizer device
CDB/CDBIC ‒ defects classification and virtual defects mapping
IR light
VVS ‒ virtual verification system
SECS/GEM connectivity
Ask us for more information