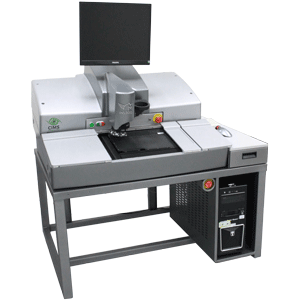 Description
AVI verification station for IC Substrates with min line/space down to 8 µm.
PVS 900, CIMS AVI verification station, is designed for verification of IC Substrates strips scanned with AVI systems. It is optimized for verification of 8 ~ 12 µm line/fingers width technology.
The system's state of the art illumination combines reflective/coaxial light channel with three separate diffusive channels to maximize contrast on gold surface as well as on solder mask. The optics design allows convenient marking of defects or scrapping defective units. Robust mechanics and powerful hardware ensure high throughput and efficiency.
PVS 900 user friendly interface and superior ergonomics are designed for convenient and easy operation that requires only minimal training. It is also fully compatible with CDB and CDBIC – CIMS defects and scrapped units data management system.
PVS 900 is compatible with all CIMS AVI systems as well as 3rd party laser marking machines.
Highlights
Flexible video light configurations
Automated material calibration
Stationary vacuum table
Ergonomic design
Optimized defect-to-defect movement
Clear defect image and adjustable video light
Options
Barcode reader
Adjustable monitor position
CDB/CDBIC – defects classification and virtual defects mapping
Ask us for more information